Are you still struggling hard to move your career ahead while staying in the field of IT? Then you should be looking forward to applying for IT Jobs in Dubai. Surprisingly, you have found the right job hunting website that will not make you miserable not even for a while. Therefore, you are requested to stick to this post and take a quick look over the number of jobs below and apply it confidently with mentioning the proper subject line.
For More IT Jobs: Click Here
| | |
| --- | --- |
| Job Position | IT Assistant/Manager |
| Job Location | Across UAE |
| Nationality | Selective (Update) |
| Education | BCS/Equivalent Degree/Diploma |
| Experience | Specified Below |
| Salary Range | Depending Upon Position (Update) |
| Benefits | Excellent |
| Last Updated | 21st November 2019 |
IT Jobs in Dubai, Abu Dhabi, Sharjah & Ajman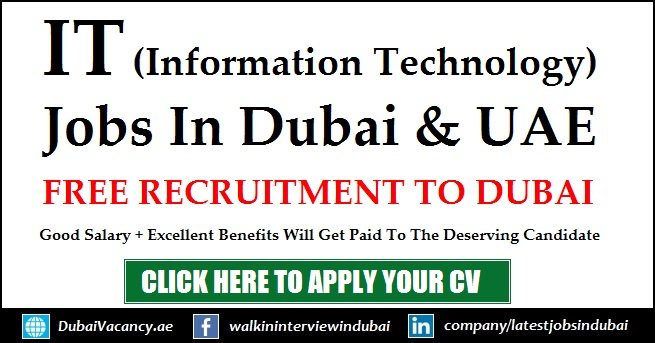 Eligibility Criteria:
An individual must hold either bachelor's or master's degree in computer science, information science or equivalent field.
Having extensive numbers of hands-on experience in a similar role would be given preference.
Having exceptional interaction skills in English both written and verbal.
Having the following numbers of core skills e.g, problem-solving, troubleshooting, decision making, leadership, organizational, analytical, project management, web platform development software, server operating systems, MSSQL, network analyzers etc.
How To Apply For IT Jobs in Dubai 2019?
Undoubtedly, IT industries are being increased drastically across the globe over the past few years. Indeed! it's the highest and the fastest paying growth job if you take it to the next level. If you are extremely serious about your career and desperately looking forward to giving the right direction to your career. Then you must have extensive numbers of experience at your fingertips. However, Freshers can also apply as per the availability of jobs. Below you can find the list of IT jobs in Dubai, Abu Dhabi, Sharjah and Ajman including either with email addresses or contact numbers. So let's get started. Wish you a very best of luck! 🙂
DubaiVacancy.ae updates daily (New Information Technology Vacancies). Make sure to keep in touch so you never miss any updates.
GTS Corporate Hiring (4 Nos.)
1) IT Technical Recruiter (5-8 years experience)
2) IT Service Center Manager (8-10 years experience)
3) IT Hardware Sales (4-8 years experience)
4) Document Management (2-5 years experience)
Interview Date: Saturday, 23rd November 2019
Timing: 09:00 AM – 03:00 PM
Location: GTS FZCO, Office #414, Building #5EA, Dubai Airport Free Zone, Dubai.
Contact #058 8267010
IT Recruiter
Company Name: GTS Corporate
Experience: Must be experienced
Interview Date: Saturday, 23rd November 2019
Timing: 09:00 AM – 03:00 PM
Location: GTS FZCO, Dubai Airport Free Zone, Dubai.
Contact Person: Sachin
Contact #04 2501410
IT Security Officer (UAE Residents Only)
Education: Bachelor or Higher University Degree in Telecommunication/IT/Electrical Engineering
Experience: 2-3 years hands on experience in security systems, including firewalls, intrusion detection systems, anti-virus software, authentication systems, log management, content filtering etc.
Email CV: [email protected]
Posted Date: 14th November 2019
Never pay for job application, test or interview. A genuine employer will never ask you for the payment in anycase.
Do you want daily job alerts straight in your inbox? If yes! Subscribe your valid email address and allow us to notify you daily new job updates & tips. So what are you waiting for. Let's get started today! To know further read more »