Get Housemaid Jobs in Abu Dhabi For Pakistani Rich Family. One of the Pakistani rich family is required full-time stay-in housemaid. Once we hired suitable candidate then will be provided Salary, Free Visa, Food, Toiletries, Health Insurance, One Day off in every week and own air-conditioned private room with free WiFi facilities by us. However, salary will be discussed at the time of interview.
For More Cleaning Jobs: Click Here
| | |
| --- | --- |
| Job Title | House Maid |
| Location | Dubai, UAE |
| Employment Type | Full Time |
| Work Experience | 1 – 2 years |
| Education | High or Secondary School |
| Salary | Competitive |
| Benefits | Free zone Visa + Food + Toiletries + Health Insurance + One Day Off Per Week + Own Air-Conditioned Private Room with free WiFi |
Live in Housemaid Jobs in Abu Dhabi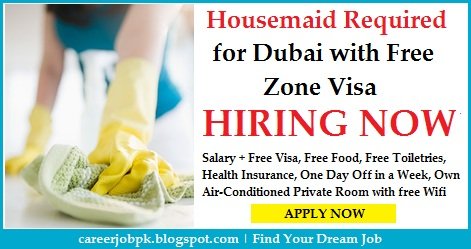 Eligibility Criteria:
We need to be experienced applicant with full of knowledge with housework, cleaning, ironing, washing, cooking etc.
At least cooking knows how that how to cook food or can follow the recipes to make food.
Should know how to welcome, serve and entertain the guests occasionally.
Must have experience looking after my son and daughter which does not require supervision.
Must be good spoken or familiar to speak in English.Candidate having 1 to 2 years of experience in the same field in order to apply for the job.
However, only those candidates can apply for the job who is currently available in the country. Our hiring process has been started so please submit your CV now by given below link. Please read all the given requirements before apply.
How To Apply Housemaid Jobs?
To apply for the post of Housemaid jobs in Dubai then please
To Apply Online Click Here