No one born with experience, an experience is something you gain. As many people are willing to find jobs in Dubai and want to start their journey to financial freedom. With passing time, building a career in one of the best job hunting city is not an easy task where every single day peoples visit Dubai through their visit visa to finding a right work to support their entire family.
However, finding a 10 good jobs in Dubai to get without a college degree and without any prior experience it sounds like wired where thousands of people are already being hired since many years and getting a job in Dubai without any education has become tough but not become impossible. This is why we have created a job listing on them, which will describe you, how to find jobs in Dubai without experience and degree.
Must Visit: Jobs in UAE – 982+ Latest Vacancies
10 Good Jobs in Dubai To Get Without a College Degree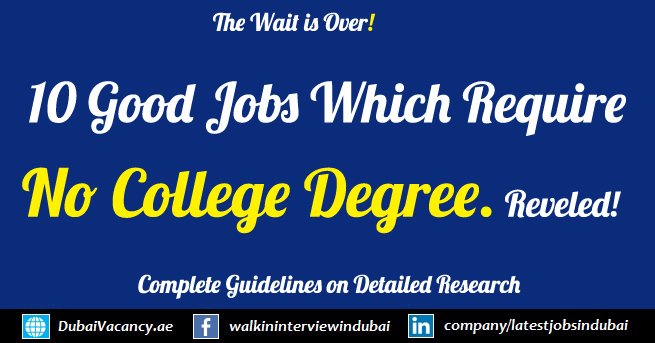 Must Read: Useful Tips On How To Make Good CV
1) Taxi Driver
Average Earning: 4000 – 6000 AED /month
Dubai Taxi Corporation hires Taxi Driver for all nationalities for its vehicle based on monthly commission. According to Roads and Transport Authority (RTA), to become a driver you need to fulfill certain prerequisites in order to get a job. For instance, you should have a valid driving license and must be familiar to speak and read English as well. Moreover, you should have a Dubai visit visa which should validate for more than a month and a valid passport more than six months. However, applying driver age must be between 21 to 45 years old and also you need to pass several exams to become as a Taxi Driver. Thus, you may find best paying work in Dubai, which does not need a college degree.
APPLY NOW
2) Cashier
Salary Package: 1500 – 2000 AED /month + Benefits
To get a job in the field of cashier is not much difficult as maybe you thinking because several retail stores, franchises, fast food restaurants, supermarkets and shopping malls are looking cashier for their businesses for the contractual or permanently based job who at least know how to collect the payment from the customer and how to count money faster. However, counting money is a fairly easy job, but you need to be cautious while counting because a single mistake can harm you within a great margin. In short, it is all just a game of focus. There are many small stores, who are ready to hire for the post of cashier whether fresh or experience, with a high degree or without a degree. Hence, you may find part time or full time cashier jobs in Dubai, which do not change your life, but at least can fulfill your daily needs.
APPLY NOW
3) Waiter
Salary Package: 1500 – 2500 AED /month + Benefits
What do you think how difficult is it to get a job as a waiter without experience? To become a waiter is something easy without a college degree and the experience because this kind of job field does not require you any kind of technical skills. You just should know the areas of expertise that how to take orders and write down which you get from the customers. However, you don't need to find a higher place to find a job in Dubai because the higher place always demands higher degree and the experience like hotels so go for restaurants which at least consider you. According to the observation, this is the best paying jobs, especially the tips are quite high and which peoples can do that without a degree.
APPLY NOW
4) Packing Labour
Salary Package: 1000 – 2500 AED /month + Benefits
Packing Helper is one of the hardest and low pay work for male and female to find in Dubai no matter which place you belong to. Most companies are willing to hire UAE, Pakistani, Indian, Bangladeshi, Filipino, Indonesian etc whether you are educated or uneducated, experience or non-experience. However, fresher will be encouraged to apply. In this type of job you have taken more responsibilities and work under pressure within a less budget. However, several leading manufacturing companies and factories post their several job ads on the top ranked job sites for the hiring process in which they mention and often offer salary, accommodation, food, transportation and free employment visa which they provide after the job selection process. But before getting a job you need to provide NOC, it stands for (No Objective Certificate) letter to start work.
APPLY NOW
5) Housekeeping
Salary Package: 2000 – 4000 AED /month + Benefits
Housekeeper is one of the entry level jobs in Dubai, which actually do not require a high school diploma degree and experience. Many hotels, hospitals and richest families are willing to hire male and female as a cleaner or housemaid for their businesses and homes. However, the most important part in the hotel housekeeping jobs is for cleaning and dusting all the assigned rooms very quickly and effectively. To become a housekeeper, you should be physically fit and at least know the little bit responsibility of this job field. Moreover, several companies often offer you for the walk-in interview jobs for the immediate hiring.
APPLY NOW
6) Security Guard
Salary Package: 1500 – 4000 AED /month + Benefits
To find a Security Guard jobs in Dubai, it can be difficult because most offices and workplace looks trained people who are eligible and can fulfill the job requirements. To become a Security Officer, you need to fulfill certain prerequisites in order to apply. For instance, it's obvious to stay fit, be at least 18 years old and your criminal background record must be clean and be responsible for protecting people to keep safe them from theft and illegal activity. Hence, you will need to stay active all the time.
APPLY NOW
7) Electrician
Salary Package: 1500 – 4000 AED /month + Benefits
Dubai has become the best place to visit and the biggest tourist city around the globe because of construction booming since few years. Once building construction completion, electrician employments rise up rapidly. This is how; you may easily find technical electrician jobs in various places including companies, homes, stores, workshop, hotels, hospitals, schools, functions and many other places. Hence, this is high paying jobs in Dubai, which do not need a college degree. But the other side it's obvious that this kind of job field demands technical skills and experience.
APPLY NOW
8) Petrol Pump Attendant
Salary Package: 1000 – 2000 AED /month + Benefits
Fuel pump attendant is a good paying job in Dubai without a degree and without experience. However, it is just requires you matric or 10th class pass education. Petrol pump helper work at a filling station where petrol is served to customers. Several reputed companies in Dubai includes ENOC, ADNOC and Al-Futtaim Logistics are looking workers for their fuel station with market competitive salary package and as well as benefits as per UAE labor law.
APPLY NOW
9) Salesman
Salary Package: 1000 – 3000 AED /month + Benefits
Being a successful salesperson you at least know the important steps of the marketing strategy for selling the product. You can't sell anyone anything until you have a marketing plan. Become a successful sales person never happen by an accident or blind luck, it all depends on your diligent efforts you applied to create a proper marketing plan or strategy to convince someone else that they need something you are selling. Honesty and sincerity in the field of sales are playing a crucial role because if your prospective customer unable to trust you then they can't make a proper buying decision.
However, trust means something you earn so the first step to selling is to build a trust with your prospective clients. When you will understand that how to assist your customer in a good manner, then you will find out your customer's wants. Try to understanding your customer's interest and desire and adopting them yourself will make a successful salesman or saleswoman. Hence, you can do part time or full time job as a seller or sales manager in any reputed company. Additionally, you can start your own selling business without a degree. However, sales job doesn't demand any prior experience it is all just a game of ideas and plan.
APPLY NOW
10) Airport Loader
Salary Package: 1000 – 2500 AED /month + Benefits
You can easily find an airport loader jobs at world's biggest Dubai Busiest Airport without a degree and experience. Finding work in Dubai with no degree in the field of airport loader is quite simple. This job field never demands high degree and prior experience. All you need to do is to load and unload baggage quickly and securely.
APPLY NOW
Conclusion
In conclusion, read carefully step by step and adopt them yourself 10 Good Jobs in Dubai To Get without a College Degree. If you are one of them who is looking a job in Dubai then please apply these steps in your life. It would be an honor to me. If you have any question regarding this topic, please share in the comment below. Your comments would be highly appreciated for me. Have a blessed day! 🙂

Safety Tips: Never pay anyone for job application, test or interview. A genuine employer will never ask you for the payment in anycase.
Disclaimer & TOS: DubaiVacancy.ae is an exclusive platform that ought to help jobseekers. We restrict any endorsement that demand for money and strictly advice against sharing personal or bank related information. If you notice deception or fraudulent, send us an email at [email protected] For further details, please read more »
Get Notified About Latest Job Updates Subscribe Now