Get Al Buraq Hotel Dubai Walk in Interview For Delivery Driver. Al Buraq Hotel is looking full time experienced motorbike delivery man for the full-time job vacancy. However, Freshers or part time job seekers both will not be considered. You are responsible for loading and unload food stuff in the delivery van to deliver the food items door to door through different routes and location. Therefore, you must be aware of every location and shortcuts of Deira, Dubai, which may help you to deliver the meals on the time schedule. Once you deliver to the customer, present them with a restaurant's brochure as a marketing, ask them for providing feedback, collect payment, inform about the new product and service with the complete presentation reports.
For More Delivery Boy Jobs: Click Here
| | |
| --- | --- |
| Hotel Name | Al Buraq |
| Nationality | Selective |
| Education | High School |
| Experience | 1-2 years |
| Salary Range | 2000 – 4000 AED /- (Not Confirm) |
| Benefits | Unspecified |
| Posted Date | 11th May 2016 |
Al Buraq Hotel Dubai Walk in Interview For Delivery Boy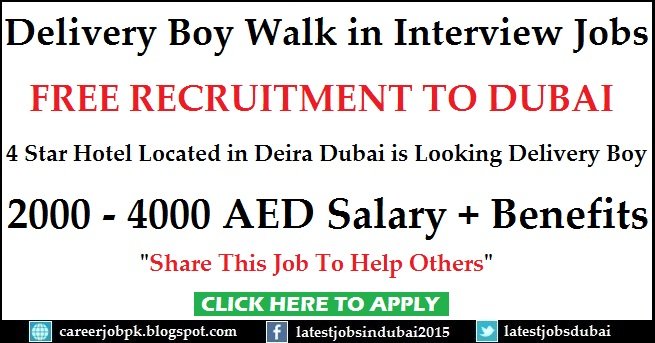 Eligibility Criteria:
Excellent interaction and presentation skills are mandatory in order to get an excellent result from the customer.
2 to 3 years working experience required in the same position.
Must be residing in the UAE on a visit visa.
Aware of any location and shortcuts.
How To Apply Al Buraq Hotel Dubai Walk in Interview?
Come immediately for the walk in interview in Dubai. Interviews will be held on coming Tuesday, Wednesday and Thursday.
Interview Date: 21st Jun – 23rd Jun 2018
Timing: 01:00 PM – 03:00 PM
Location: 5 Old Baladiya Street, Gold Souk, Deira, Dubai.
We are no longer accepting applications now. Please check back later.
Beware Of Fraudsters!
Never pay anyone either for job application, interview test, or job interview. A genuine employer will never ask you for the payment in any case.